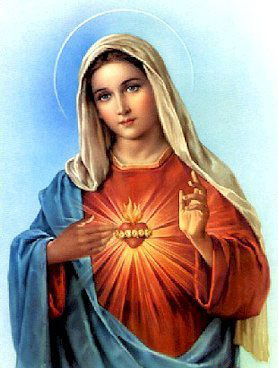 Immaculate Heart of Mary, my Mother, I come to you in childlike prayer. I earnestly desire that all the people of the world may be brought back to the humble knowledge and love of the Sacred Heart of your dear Son. I pray, dear Mother of my God, that the wonderful beauty and purity of your own Immaculate Heart may so win our souls that we may detest all sin and dedicate our lives to the honor and glory of the God who created us.
You revealed the secrets of your own sad heart at Fatima and begged for penance, prayer, and conversion of the world to God. What more can I do than unite my heart to yours in this great yearning? What can I add but the fervent prayer that all the world may listen to your pleading?
I give my heart to you, my heavenly Queen, and in confidence I leave to you what is best for me in answer to my prayer for love and reparation.
Immaculate Heart of the Mother of my God, I implore through your powerful intercession, the conversion of the hearts of men, complete victory over sin, and the return of the peace which you have promised. Amen 
---
Dear friends of Garabandal and visitors to this web site please feel free to place your requests for special intentions on this page so that all who come here, can pray with you during your time of need. We ask all, not leave Garabandal News without taking a moment of your time to pray for and with all those who ask.
God Bless Pete
---
Claudia
May I request a prayer for my family, specifically for our two foster sons, Elijah and Josiah. They are 3 months old and 19 months. Elijah was exposed to drugs in the womb and he came to us directly from the hospital after his birth in August. His older brother, Josiah, came to us in September on the day his parents were arrested for drugs. They have been with us up until last week when their grandfather, a convicted felon for dealing drugs, requested custody and it was granted. I promised Our Lady on August 15, the feast of her Assumption, that I would consecrate Elijah to her on the day of his adoption into our family. I have been praying the rosary daily for each of them to receive their baptismal garments. Now they are in the hands of someone who cares nothing for their salvation or for anything holy. Our hearts are broken. We are praying that they be returned to us unharmed. We are keeping our home open to them and not taking any other foster children. I hope to take Elijah and Josiah to Garabandal on the day of the Miracle, so they can be healed. Thank you and God bless you.
---
Concerned
Could I please go off topic and ask everyone here, whose strength of faith I regard so highly, to please pray for my son that he may be released from his cross of alcoholism and binge drinking. I know this is not a prayer site, but I know that this blog's contributors are genuinely believing and prayerful people. He has such good intentions but seems to fall every time – waste of a young life. Thank you.
---
Mac
Just a quick update. Today the Specialist ruled out any attempts at treatment.He also has given a time frame of 1-3 months. So thank you for your prayers, I will be counting on them when I am gone also.
God Bless
Luke
---
Elena
Dear brothers and sisters, please pray for me and my family as this is the darkest moment in my life. I'm aware Christ requests us to carry our cross but I just feel this is very heavy and I need help. I will pray for all your intentions as well.
---
Mrs Shark
Please pray for "F" who is dying from addiction, Pray pray for M who is in need of work. Please Our Lady and St Joseph help us find a home soon. Please dear mother if you can help intervene financially so we have breathing room. God Bless